Looking back at Saturday 18 September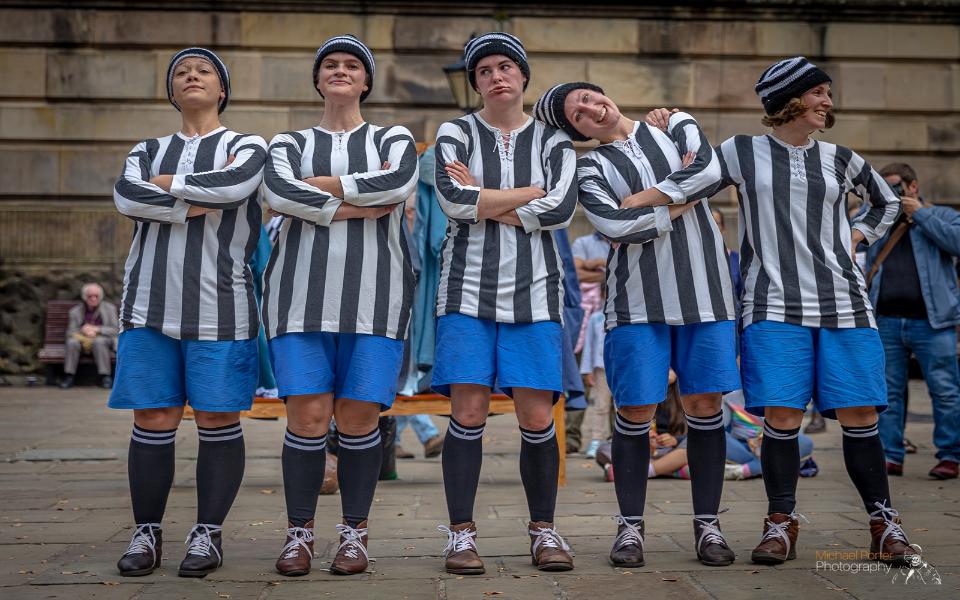 A look back at the acts, performances and events from Saturday 18 September 2021.
Thank you to Preston Photographic Society who provided the pictures of the event.
Quite Unfit for Females
'Bursting with teamwork, resilience, determination, and fantastic footwork!
'Quite Unfit for Females' explored the astounding story of the Preston based Dick, Kerr Ladies football team, arguably the most successful women's team of all time!
This brand new performance by About Time Dance Company celebrated the incredible achievements of the pioneering Lancashire women and how they went on to defy a ban on women's football in 1921, when the FA delivered the bitter blow that football was yes, 'Quite Unfit for Females'.
Justice in Motion On Edge
A breath-taking, stunning, engaging piece that marries theatre and parkour in inspiring new ways.
ON EDGE told their moving, stimulating story. Slavery exists today: under our noses; within our communities; outside our knowledge. With its compelling mixture of dance, theatre, parkour, aerial acrobatics, film and music.
The performances challenged perception, and speak of hope, redemption and forgiveness, while clearly and fearlessly portraying some harsh realities surrounding issues that concern us as a society.
Routes - Theatre Témoin
Routes mesmerised the Flag Market with its playful games and audience participation.
The interactive promenade show built with a team of refugee, migrant, and British-born artists that explores perspectives on "Homes" and "Others".
Routes interweaves 4 distinct British and refugee narratives together to tell a heartfelt and memorable story of division, hope, and belonging.
Howling Roughs - Jamie Holman
A performance from artist Jamie Holman, proposing that the football cultures established as a consequence of the formation of the football league during the industrial revolution can be located as a folkloric tradition.
Supreme Visions of Future Life
Musical theatre company, Leo and Hyde, brought an artwork to life using Unlimited Motion's cutting-edge motion capture technology and their trademark catchy songs at the Harris on Saturday.
Salsa Workshops
Salsa North West and Phil Kaila brough smiles to the people of Preston with crazy dance moves and introducing them to the fun dance family.
With workshops, taster sessions and a salsa party the people of Preston really did dance the night away.