Looking back at Saturday 25 September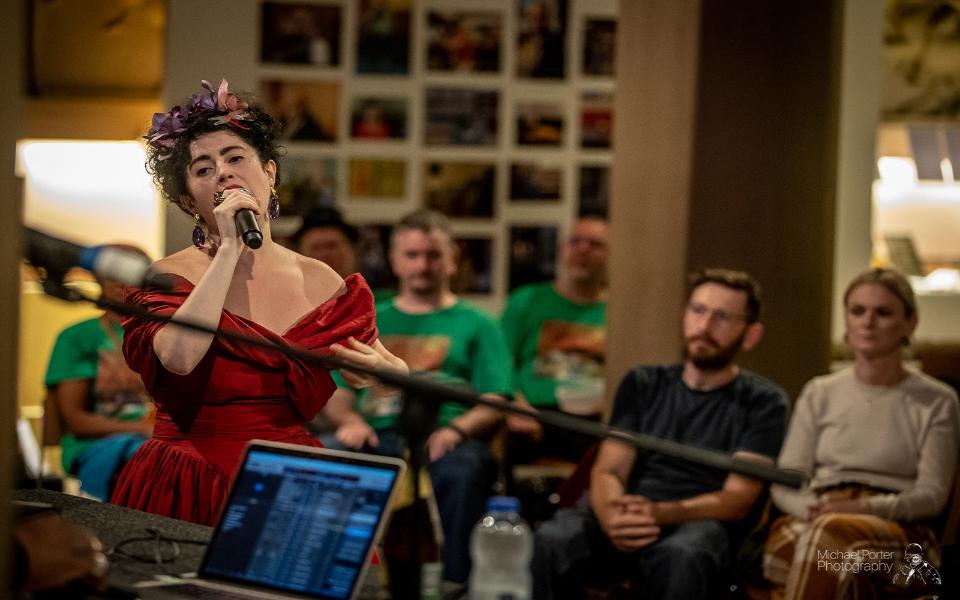 A look back at the acts, performances and events from Saturday 25 September 2021.
Thank you to Preston Photographic Society who provided the pictures of the event.
Dirty Freud
Cinematic electronica act Dirty Freud have created their own audio visual response to the city of Preston, combining field recording, research into the Harris' collections, film footage from Avenham Park and electronic composition to form 6 new songs focusing on Lancashire's history and folklore.
The duo have created new stories based on the cotton industry, imagined mermaids in the River Ribble and J W Waterhouse's Psyche entering Cupid's Garden.
Each piece is inspired by a line from the Museum's iconic inscriptions:
'To Literature, Arts and Science On Earth there is Nothing Great but Man In Man there is Nothing Great but Mind Reverence in Man that which is Supreme. The Mental Riches you may here Acquire, Abide with you Always'.
Life Class
Made up of members of The Preston People's Choir and dancers from the Fever Dance community, drew upon the Tea Dance to celebrate our greatest, most memorable, most requested role - ourselves.
Through poetic text, music and intricate choreography it asks:
when strangers' eyes meet across the dance floor, how did we end up playing this part, in this scene, with these lines?
And wonders - who's this dancing opposite?
How do the people we share our lives with shape who we are, make us us? Will our lives ever be the same again after the last dance?
A Little Voice Called Hope - Helena Ascough
Written during the lockdown, this powerful, poignant and funny spoken word set is about never giving up hope, making the most out of the everyday and celebrating the small things in life.
Cacophany Arkestra
Cacophany Arkestra was formed in 2014 from a group of talented musicians and carnival artists.
Performing a high energy mix of Soca and Calypso tunes blended with other musical styles- Ska, Jazz and Afro-beat.
HOWL - Film screening
A reaction to a year of captivity and an ode to the last wolf in England that was killed on Morecambe Bay.
HOWL connects audiences with our forgotten wildness and wilderness, an immediate signifier for the power of nature and a reminder of our pack desires.
As we emerged from our lockdown, 100 strangers from across the county gathered on the iconic 'brutalist' bus station in Preston to let loose and perform a mass 'howling'.
Incredibly moving and cathartic, the joy of gathering together as a pack and letting our howls of joy, frustration, anger and pain ring out across the car park was a powerful moment, which has been captured on film.