Looking back at Saturday 17 September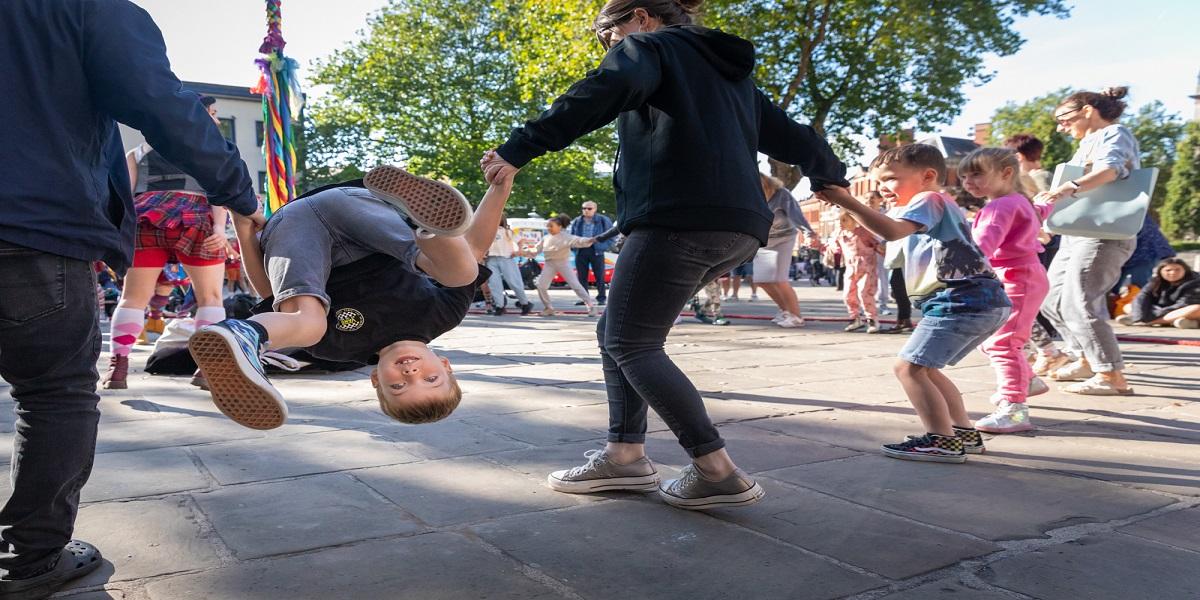 A look back at the acts, performances and events from Saturday 17 September 2022.
Thank you to Preston Photographic Society who provided the pictures of the event.
Close Encounters
Something strange happened down Orchard Street. There was wild west bakers, family ravers, paparazzi and cycle taxis....and who's that on the VIP celebrity red carpet? Oh, hang about...It was YOU!!
In a series of close encounters, the inimitable Mirror Twins hosted Derelict's unique slant on Street performance.
Derelict have been involved in Lancashire Encounter since its inception, hosting street performances and installations along with creative activities and co-production conversations with Preston residents.
FloooOOooote
Puppetry and flute music came together in this theatre piece, as objects came to life through the actions of breathing and playing!
FloooOOooot! Was a collaboration between flautist and recording artist Kathryn Williams and theatre maker Sue Auty.
Born to Protest
Born to Protest form the second part of a Hip Hop dance theatre trilogy and aimed to dismantle presumptions about the black male and female figure based on intimidation, danger and isolation. This performance was an intense energy with Hip Hop beats and voice over.
Urban Astronaut
This outdoor show combined aerial theatre with dynamic choreography and stunning design to tell a compelling story, bringing audiences a global issue and inspiring them to make a change.
Urban Astronaut brought a message of hope around climate crisis, with their last-ever showing at Lancashire Encounter.
Audiences across the world have been wowed by the Urban Astronaut since it was premiered in 2016, but touring company Highly Sprung says the performance at Preston Bus Station on Saturday, September 17 was its final show.
Providing a glimpse of a possible future, the show centred around earth having been destroyed by environmental pollution, rendering it uninhabitable.
Suspended on a gravity defying flying machine, the Urban Astronaut travels through towns and cities to provide a glimpse of a not-so dystopian future. On his journey he meets a girl who provides hope, the one thing he has not lost.
Step Hop House
Ceilidh Jam got us on our feet for this funked up, unique, folky and social dance. With maypoles, clogging and a hint of African and Bollywood thrown in, which was all to a live soundtrack of fiddle and beatboxing.
Preston People's Choir
Preston People's Choir provided Lancashire Encounter with a flavour of their natural voices with songs from around the world.
Swati Dance Company
Swati Dance Company is a South Asian Dance Company, founded by Dr Swati Raut, an established dance artist, choreographer, teacher and educator.
Swati Dance Company provided Lancashire Encounter with a flavour of Indian classical dance form of Bharatanatyam through excellence in practice.
Hold On
Lancashire Encounter was introduced to the world of Hold on, where gravity, counterweight and centrifugal force are tested to new limits.
Stefano Di Renzo provided a wordless performance of delightful virtuosity where buckets whirled around, cups and balls fly through the air and planks become catapults. All culminating with the charming character holding himself afloat in the air just by the strength of his grip whilst he is precariously balancing on top of the rope he is holding on to.
Stefano is a circus theatre artist working towards a dynamic fusion between circus and physical language. He created the shows On my way and Hold on. Alongside his own work, Stefano has worked with Ockham's Razor, Theatre Rites, Company F.Z., The Generating Company and Compañia LA.
Jazz Swing Dance
Anthony and Stephanie have been teaching vintage dance in Preston for 12 years and were part of the Guild Celebrations. The Jazz Swing Dancers showed off their love for fashion, music and dance of the early 20th century, with a Rock n Roll, Jive, Lindy Hop and the Charleston all at Lancashire Encounter 2022.